Shanzhai Lyric is a body of research focusing on radical logistics and linguistics through the prism of technological aberration and nonofficial cultures.
Conceived by artists and researchers Ming Lin and Alexandra Tatarsky, the project takes inspiration from the experimental English of shanzhai (i.e. unofficial, bootleg) t-shirts made in China and proliferating across the globe, to examine how the language of counterfeit uses of mimicry, hybridity, and permutation to both revel in and reveal the artifice of global fashion hierarchies. Viewing this as part of a larger aesthetic strategy of apparent nonsense as a way to disrupt the relentless forces of commodification and make space for hybrid, liminal and illegible futures, this work seeks to contribute to a de-colonial discourse surrounding the use of non-normative language as a mode of resistance.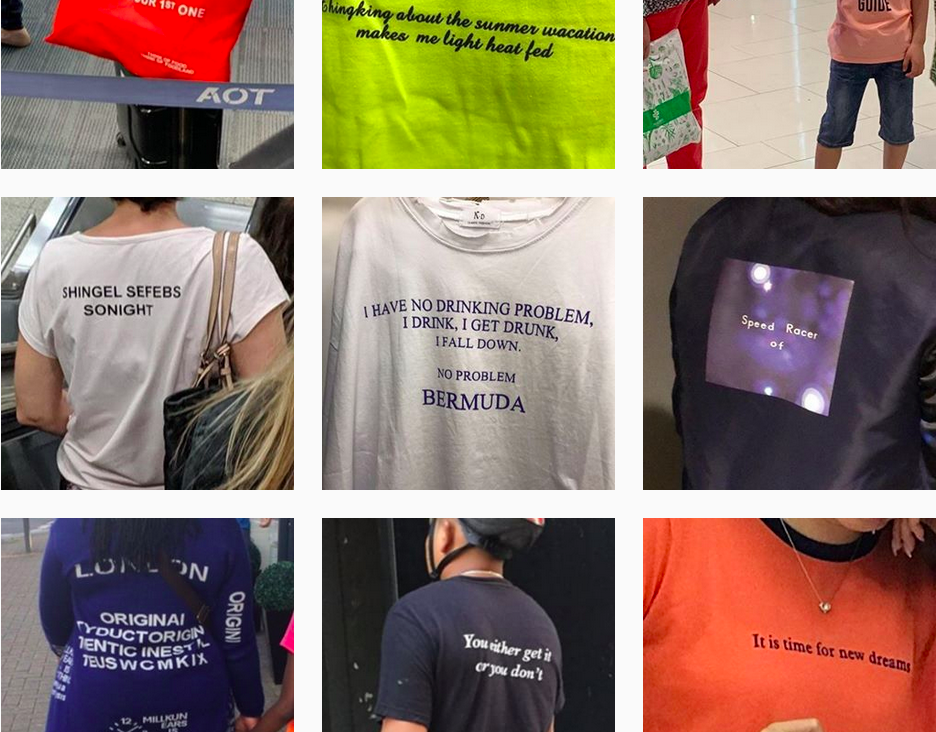 "Shanzhai Lyric is the name of both the project and the phenomenon we are trying to identify—an anonymously and collectively authored ongoing poem emerging out of the detritus of consumerism. The name Shanzhai Lyric itself can be read as a kind of bootleg, eliding distinction as an attempt at expressing solidarity with the aesthetic philosophy and politics of this hybrid English while not claiming ownership over the found phrases that we are gathering as our subject.

We are less interested in producing our own bootlegs than in identifying shanzhai strategies and sharing them across various platforms through experiments in publication, performance, curation, archive, installation, and conversation. Our aim is to place shanzhai lyrics in dialogue with other poetic and artistic lineages that also experiment with mimicry, wordplay, poetic plagiarism, and nonsense as subversive methods. We do this in a very physical sense, weaving two main threads by which textile becomes text and text becomes textile."
At The Influencers 2019 Ming Lin and Alexandra Tatarsky will engage in an experimental workshop with local students held in collaboration with the Massana School of Art (Barcelona) and will then introduce the Shanzhai Lyric project in a performative lecture at the Center of Contemporary Culture of Barcelona, both activities on Saturday October 26th.