An experiment in reverse engineering GAN-generated images and facial recognition systems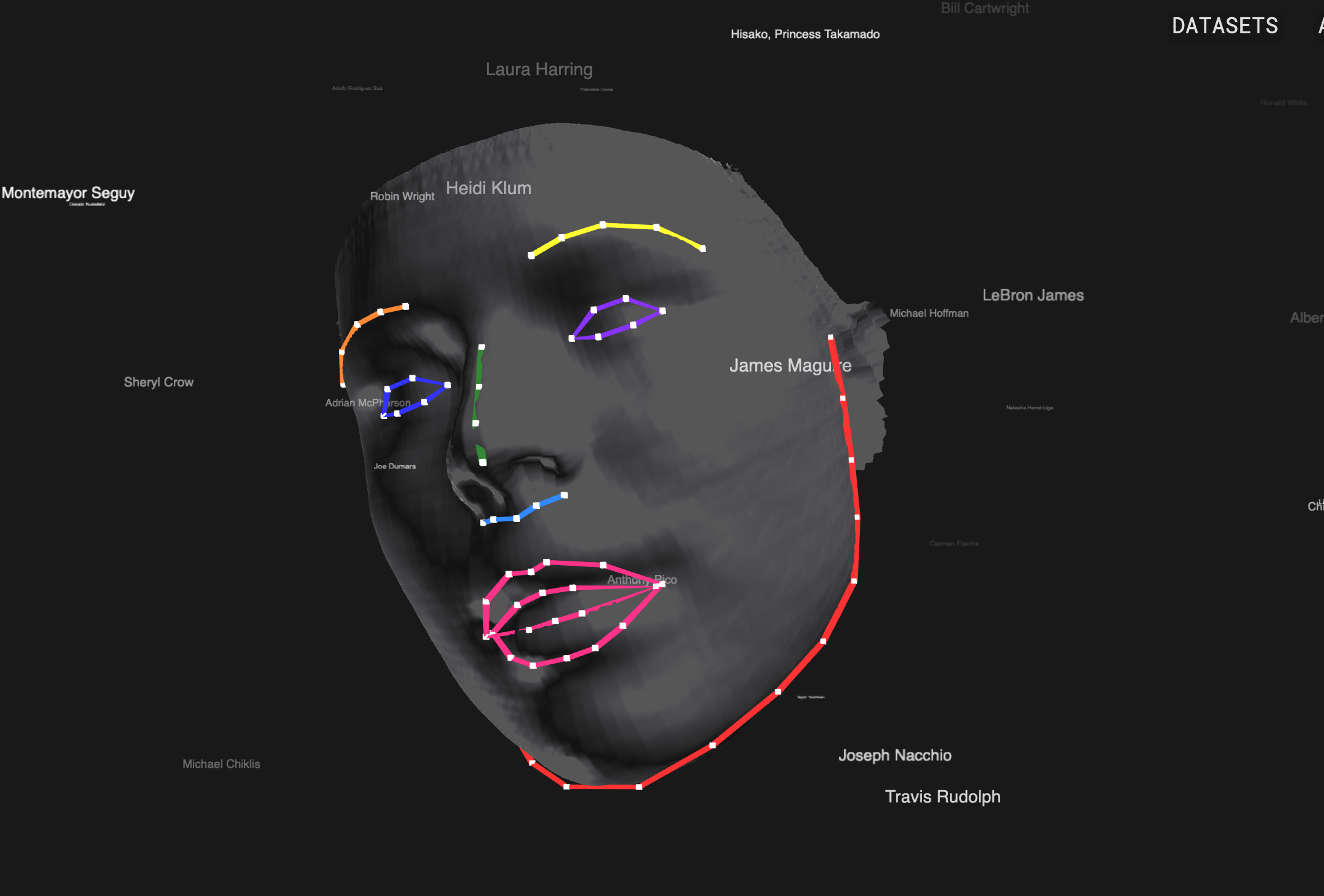 This workshop aims at crossing the research done by Mitra Azar's DoppelGANger.agency about algorithmic facial generation and recognition with Adam Harvey's Megapixels project, that investigates the opaque use of massive faces datasets by the academia, corporations, and some governments.
Friday October 25, from 12pm to 5pm
Center of Contemporary Culture of Barcelona, Room -1 (Hall)
15 seats available

Required skills: none in particular, but some experience in performing, post-digital art, technopolitical activism, or experimental design will certainly help
Language: mostly English
Technical requirements: 1) bring your own laptop + 2) install Miniconda
Sign up: SOLD OUT. registrations are closed now and applications will go in a waiting list in case of last minute cancellations. If you're interested you can email us at talk -at- theinfluencers -dot- org (subject: "Algorithmic faces workshop") with a brief description of who you are, your background and why you're interested in this workshop.
During the workshop we will use a set of GAN-generated faces and search for their human equivalent.
Firstly, we will reverse engineer algorithmic facial recognition feeding the neural networks with algorithmic images and searching for the closest images in the datasets used to train the very same facial recognition software. In particular, we will use datasets where Adam Harvey detected faces of people that were unwittingly incorporated in the dataset. Doing this would allow not only to learn how these tools work, but also to understand issues of biometric separability between people's faces, no matter if 'real' or algorithmic.
Secondly, we will also beta-test a new software, especially built for this occasion, as an outcome of the collaboration between DoppelGANger.agency and MegaPixel. This software is able to find the human embodied facial double of a GAN-generated faces, and allows people to upload their faces and search for their algorithmic doppelganger. We expect to deal with 1 million GAN faces available for testing by the time of the workshop, within a conceptual horizon of 7.7 billion GAN faces, which would ideally match the number of humans on planet earth, one GAN faces for each human face. This will possibly allow to explore the newly crafted concept of proxy face as a tactics to preserve anonymity and access services online.
The practice based part of the workshop will be matched by a second part consisting in an exercise of creative guerrilla art/activism where some samples of posters and masks of algorithmic faces will be available as a starting point for possible actions, performances, campaigns, or internet challenges in the framework of the DoppelGANger collaborative project, in which algorithmic faces will match, fight against, or overlap with human faces in your city or online circles.
Ultimately, the workshop will bring participants into slightly more speculative and narrative territories. For instance, could GAN-generated faces be turned into masks or other creative devices to avoid facial recognition in the context of street protest, actions, demonstrations? On a more conceptual level, how could the relation between original and copy be radically displaced? Should each human being on the planet attempt to build, search for, or even have the right over her own unique algorithmic face?